Urinary Incontinence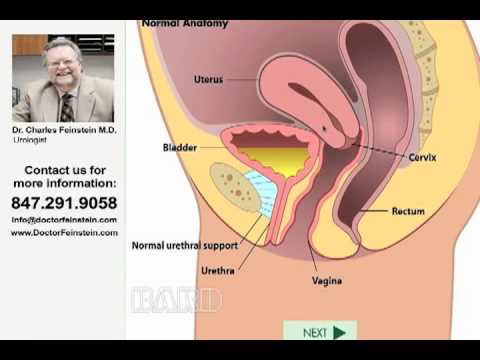 Urinary Incontinence affects millions of women around the world.  But now you don't have to suffer in silence any more! There is a simple 30-minute procedure that can cure Urinary Incontinence once and for all. Doctor Charles Feinstein is a Urologist and Surgeon who specializes in the treatment of Urinary Incontinence, and he is well known throughout Chicagoland for the quality and style of his surgical procedures.  For more than 25 years, Doctor Feinstein has helped thousands of women.
Doctor Feinstein M.D. and Associates Office is a private, world-class, freestanding surgical facility located on the North Shore of beautiful Lake Michigan.  Doctor Feinstein also sees patients at his other office in Northbrook, Illinois.
The video on the right features Doctor Feinstein explaining the causes, symptoms and treatments for Urinary Incontinence.

This video is a great source of information for women.
What is Urinary Incontinence?
Urinary incontinence is the unintentional release of urine during normal everyday activities. If you have stress urinary incontinence (S.U.I.), you may lose urine when you:
Laugh, sneeze, cough
Exercise, jump, run, do sports of any type
Lift or push anything heavy
Get up from a seated or lying position
A weakening of the muscles of the pelvic floor causes S.U.I. These pelvic muscles support the lower urinary tract, the bladder and urethra (the tube from the bladder where the urine leaves the body). If the pelvic muscles are weakened, most often the result of childbirth, they cannot hold the urethra in its correct
position, so any movement that puts pressure on the
bladder (sneeze, cough, etc.) will allow urine to
escape. Most common causes of S.U.I.:
Childbirth
Pelvic surgery
Hormone deficiency